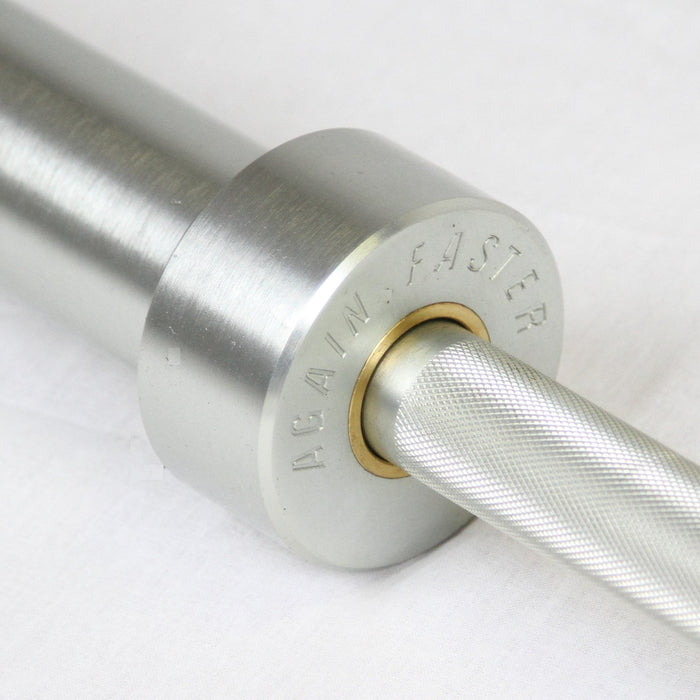 Again Faster Team 3.0 20kg Barbell
Back In Stock Soon
Original price
$419.00
-
Original price
$419.00
The Again Faster Team Barbells 3.0 are proven to be among the most functional and reliable barbells in the industry.  With a needle bearing spin that allows turn over like no other, you'll be hitting new PRs in no time.
The Again Faster Team 3.0 barbell comes in 15kg and 20kg options along with three finish options – Silver, Silver/Black and Black
SPECIFICATIONS:
Diameter: 20kg - 28mm / 15kg - 25mm
Collar Length: * 20kg: 450 mm with 420 mm usable * 15kg: 350mm with 320mm usable
Weight Tolerance: +/- 0.1%
Dual knurl marks that meet both IWF and IPF specifications for knurl mark spacing
No centre knurling
209,000 PSI Ultimate Tensile Strength
6 needle bearings and 4 ball bearings
Oil impregnated bronze bushings are press-fit into the inner ends of the collars, with cold rolled steel bushings set into the outer ends
Collars are secured with an internal horseshoe collar and a pair of external snap rings on the end caps.
Finish Options: Bright Zinc, Bright Zinc & Black Powder Coat, All Black Cerakote
Mild to moderate knurling provides a secure grip while helping to save your hands during high-rep lifting, and does not have a centre knurling.
The Again Faster Team Barbell has been a barbell of choice for years - loved and used in garages and gym all over the world – and you're going to love it too.  Just put it in your cart, check out and you'll be hitting PBs in no time.