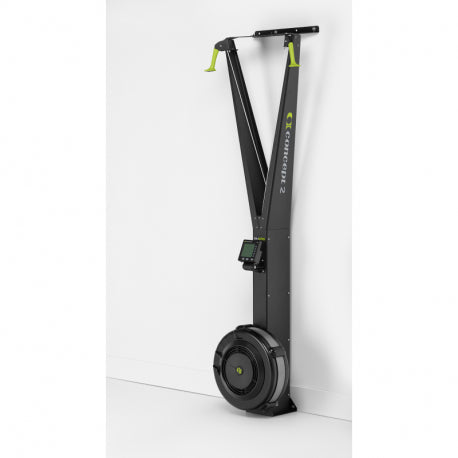 Concept 2 SkiErg (Without Base)
Back In Stock Soon
Original price
$1,749.00
-
Original price
$1,749.00
PM5 PERFORMANCE MONITOR
The Performance Monitor truly sets the Concept2 SkiErg apart from other cross-country training devices. Sophisticated yet easy to use, the PM5 can:
--Monitor turns and track distance, speed, pace, calories burned, and watts.
--Manage a wide range of features such as preset workouts, games, and multiple languages.
--View force curve, pace boat, bar chart, large print, or all data.
--Store performance data and/or transfer data to your Mac or PC via a USB Flash Drive.
--Use ANT+ and Bluetooth Smart with compatible heart rate monitors.
FLYWHEEL AND DAMPER
Like the Concept 2 Rowers, the SkiErg uses air resistance generated by the fanned flywheel. To adjust how much air enters the flywheel housing on each pull, the design includes a unique spiral damper, which you can quickly adjust to different settings (simulating everything from a flat straightaway to a severe uphill climb). This makes the SkiErg customizable to the skill sets and preferences of any skier or strength athlete, regardless of size or experience.
DURABLE, ERGONOMIC CONSTRUCTION
Backed by Concept 2's nearly 40 years as a leading American fitness equipment manufacturer, the SkiErg promises precision engineering and dependable durability. This model includes high-strength, lightweight drive cords for a smooth response, along with new ergonomic, strapless handles for a secure, moisture-resistant grip suited to any hand size. The grips and cords can be used for both the double-pole and alternating arm techniques.
WALL-MOUNT OR FREESTANDING + EASY ASSEMBLY
The SkiErg can be either mounted on a wall or used with a specially designed Floor Stand, also available to add in the order menu. Wall mounting provides the most compact option, while the floor stand, with its anti-skid deck and caster wheels, provides an all-in-one solution that makes the SkiErg mobile. Either way, the unit is easy to assemble, with all 12 required screws provided with the order, along with tools and illustrated instructions.
GREAT FOR ADAPTIVE / REHAB TRAINING
While the SkiErg is used by professional skiers and other athletes at the highest levels of competition, its versatility and adaptability have also made it a popular tool for athletes rehabbing from injuries or in an adaptive strength training program. Because the SkiErg can still be used effectively while sitting in a chair, it's also functional and effective for many rehabbing and disabled athletes in a way most comparable fitness machines are not.