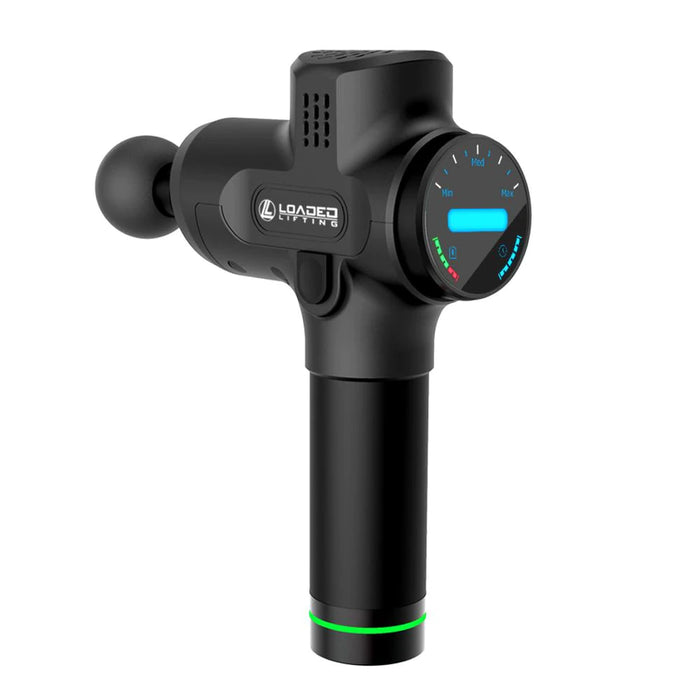 Loaded Lifting Massage Gun - Personal V2 (Matte Black)
Back In Stock Soon
Original price
$375.00
-
Original price
$375.00
Why buy a gun? Increased range of motion, better exercise execution and increased recovery.
In training, your two major factors are your maximum recoverable volume, and the efficacy of how you create that volume.
In order to progress at the best rate, a valid approach is to increase firstly your ability to recover and secondarily your ability to lift efficiently.
Massage guns come into play here. No massage gun is magic, and its effects are largely perception based on muscular soreness and range. Studies have shown a decrease in perceived delayed onset muscular soreness and increase of range using percussive therapy (ie, a massage gun).
When to use your gun? Before you workout
Science show improved muscular strength, power development and kinesthetic awareness (over a control group that had not warmed up). The gun allows a 'cheat' warmup. This is hugely effective on
Shoulders before low bars

Glutes and groin before low bars

Hammies and low back before deads

Triceps before bench


Personal Unit Specifications:
Stall force: 225N

Stroke Length: 1.2cm

Includes: Massage Gun, 6 attachments, plush carry case, charger, manual

20 minute run-time with timer on LCD
Battery indicator on LCD
Speed: 10 settings

Soft Silicone Grip

LED screen with speed and battery indicator

Input: 240VAC 50/60 Hz input (Australian Plug)

Output: 24VDC @ 1A

Power: 60W

Max speed: 3200rpm
Material: ABS and Silicone compound
Weight: 1.09kg

Battery: 2400mAh Lithium-Ion rechargeable

Charging Time: 2-3 hrs total

Use time: 2-3 hrs total

Noise: 40-60 dB

Operation: LED touch screen

Quick treatment of trigger points during training.

Simple use for quick relief of tight knobs and trigger points.

Suitable for everyday use.

Suitable for every athlete and gym goer.

Suitable for home use.