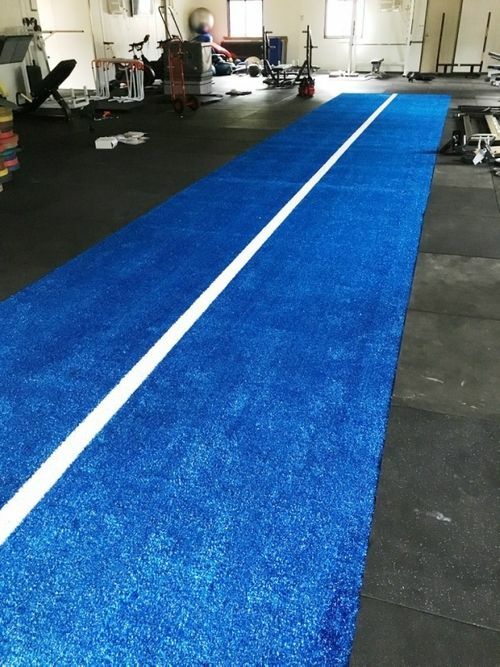 Morgan Blue Astro Turf 15m x 2m
Back In Stock Soon
Original price
$1,375.00
-
Original price
$1,375.00
Morgan commercial-grade blue astro turf is a great addition to any functional fitness or combat sports training centre that wants to incorporate a designated area for power sled and sprint training.  Our turf is designed for high usage areas with a guaranteed 1-year commercial warranty.  High-grade athletic turf designed for elite athletes.
Each Roll is measured at 15m x 2m x 1.5cm thick blue turf at an approx weight of 70kg per roll
10cm wide, white breaker line down the centre to split the turf into usable 1m dual tracks
100% UV treated Astro track turf
An upright turf weave creates a lifelike usable surface allowing power sleds to glide over the turf (lightly brush over your turf every few months with a steel headed broom to maintain an upright weave)
Perfectly suited for both indoor and outdoor use, the adjoining tape can also be purchased from us to extend the length or width of your track
Ideal for all types of cross-functional training needs
Astroturf has a 1-year warranty against normal wear and tear
Astroturf can be laid on a concrete surface we recommend using heavy-duty Velcro placed under the seams, carpet tape may be used for a more permanent application
Top-quality - multi-lab approved:
Anti UV testing - Pass
Lead content - Pass
Fire resistance - Pass
REACH SVHC testing - Pass
Toxicology - Pass
Technical Date specs on turf:
100% UV Resistant Polyethylene Fibrillated Yarn
Yarn Count (Dtex) 8800
Yarn height (straight): 15mm +/- 5%
Machine gauge 1/4 inch
Tufts per linear M 250
Tufts/m2 = 63000
Yarn weight (g/m2) = 900 (+/- 5%)
The drainage hole diameter of 5mm
Primary backing: UV resistant pp 148g/m2
Secondary backing: UV resistant PP 90g/m2
Back coating: Latex + rubber Spun bond on Styrene-Butadiene Basia, 700g/m2
Fire resistance grading: DIN 51960 Class 2 flammable
Note: There may be a slight colour variation from roll to roll of approx 3% based on the large volume of turf that is imported and due to the chemical preparation of the product. We also recommend running a steel headed broom over your turf to raise the weave/pile when you first get it.