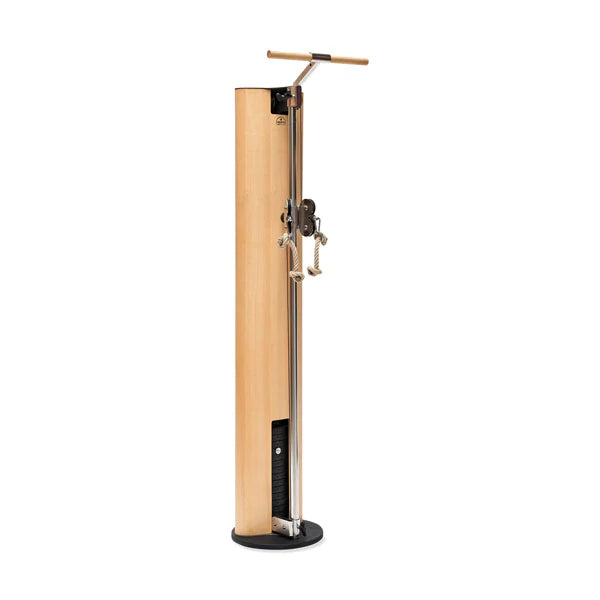 Nohrd Slim Beam Oak
Save

0

%
Save %
Original price
$2,599.00
-
Original price
$2,599.00
Cable stations are versatile and multi-functional exercise machines. It's no mystery as to why they remain a classic in exercise equipment. Fitness studios, as well as physiotherapy centers have been relying on cable exercise for years.
The NOHrD SlimBeam cuts a fine figure in home fitness, as well, combining a stylish, sharp design with a sleek body. Thanks to its slender silhouette, curved shape and high-quality wood, the SlimBeam delivers a professional cable exercise station for every kind of functional training.
Available in Ash, Cherry, Club, Stainless Steel and Walnut...
The butterfly - exercise on both sides
The SlimBeam's biggest advantage is the butterfly, enabling you to work your body both on one or both sides. It can be swiveled and set at any height. The cables are synthetically coated and run fluidly over the ball bearing wheels, providing an optimal training effect.
Rubberized weight plates - silent effect
Standard SlimBeam models feature 14 weight plates at 5kg, plus the base weight of (further) 5kg. Each oval-shape weight plate is individually rubberized with a black matt finish, fitting perfectly into the wood body encasement.
Space-saver
Measuring 215cm high and 40cm wide, the cable machine fits perfectly into all interiors. The SlimBeam is fixed at 10cm from your wall and protrudes a mere 20cm total into the room.
Product Specifications:
Base plate: ø 44 cm
Height: 215 cm
Width: 40 cm
Depth: 20 cm
Distance to wall: 10 cm 14
Weights: 5 kg each
Start weight: 5 kg
Total weight: ca. 120 kg
Standard cable ratio: 3:1
Optional Product Options:
Free Standing Base
Accessory Adaptor
Training Bench
Pull Up Lat Bar
Foot Cuff Handle
Cable for 1:1 Gearing
Cable for 2:1 Gearing