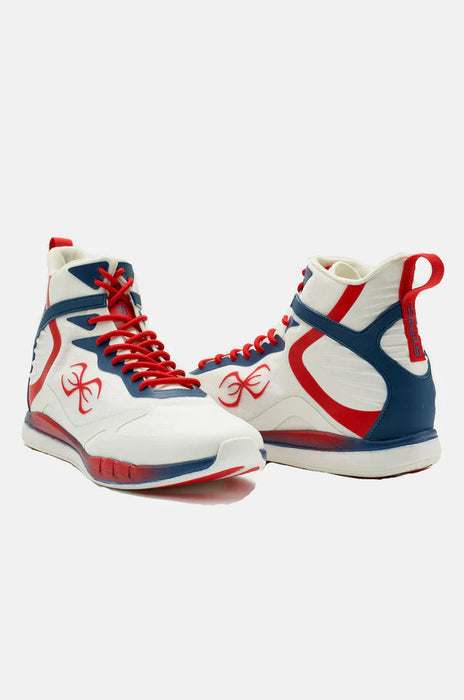 Sting Viper 2.0 Boxing Shoe White/Blue/Red
Back In Stock Soon
Original price
$220.00
-
Original price
$220.00
Sting is an Australian-owned boxing equipment company, that manufactures high-quality boxing equipment for fitness enthusiasts, all the way up to the Olympics and professionals. From gloves to protective equipment, coaching products, accessories and punch bags; there is nothing like a Sting product. Constructed from some of the best materials with the latest design techniques you can rest assured Sting products will fulfil your sporting needs.
The New Viper 2.0 Boxing Shoe has been engineered to further enhance the natural movement needed to complete at the highest level in the ring. We have reduced the weight of upper which is still reinforced and combined with a new lightweight flexible midsole for added comfort and allows maximum agility. The new pattern on the outsole increases manoeuvrability around the ring. The overall combination of these distinct features combined with ¾ cut upper provides a lightweight shoe with the ideal amount of support for all levels of boxing.
FEATURES
Upper is constructed from lightweight open weave mesh for breathability with medial and lateral welded thermo plastic overlays to provide the structure to the upper
The new and improved external thermoplastic Heel counter provides great stability which extends to the lacing system. The raised heel collar has a sleek 3D look. 
The new lacing system to allow the foot to be snitched down to the footbed which includes a BASF inner sole for added support and comfort.
The new midsole has been added to the shoe to add comfort both in and out of the ring. The midsole is made of low-density compression moulded EVA with amazing flexibility in the forefoot. It has been designed to mimic the natural motion of the foot, it allows the weight transfer from heel to toe and back with the minimal amount of effort. 
Outsole wraps up onto the upper in the key areas around the heel and the front toe to enhance durability and gives great grip on all surfaces.
The shoe also allows the right amount of torsional rigidity whilst giving great arch support.
Internally a super soft innersole has been used to give maximum comfort and provide additional support to the foot.