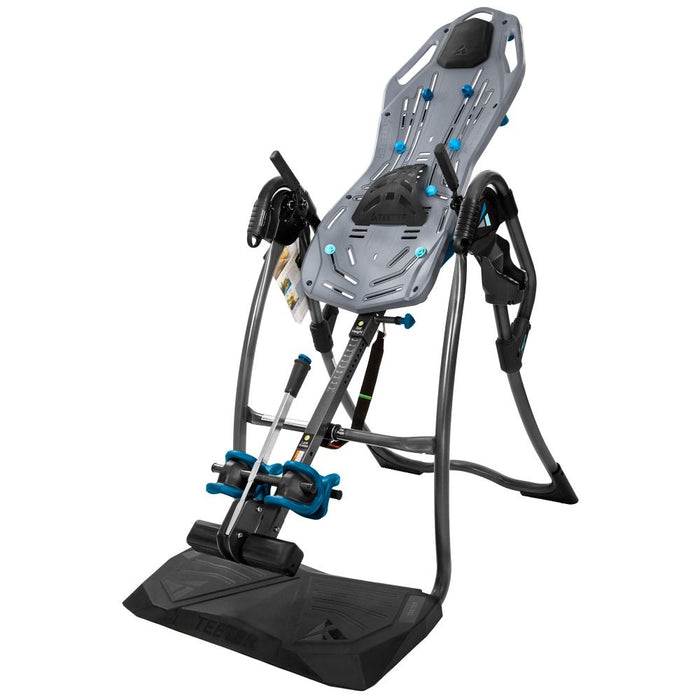 Teeter FitSpine LX9 Inversion Table
Back In Stock Soon
Original price
$1,099.00
-
Original price
$1,099.00
Setting a new standard in back pain relief, the Teeter FitSpine LX9 Inversion Table is fitted with premium features and accessories to enhance relaxation and ease of use. Ideal for back pain sufferers, the EZ-Reach Ankle Lock has an extended handle that reduces the need to bend when securing the ankles. Traction Handles and extra-long Stretch Max Handles add decompression options and assistance. The EZ-Angle Tether makes it easy to pre-set your inversion angle at 20, 40, or 60 degrees.
The LX9 is set apart by its unique and functional design, including an arched base with boarding platform that makes mounting and dismounting even easier! The innovative FlexTech Bed is supported by an 8-point floating suspension system that flexes as you move and enables for the best decompressive stretch. The tracks on the table bed accommodate the included Lumbar Bridge and Acupressure Nodes for targeted traction and pressure-point relief.
Teeter offers the only inversion tables both independently certified by UL and registered with the FDA as a 510(k) medical device. The Teeter is indicated for the relief of back pain, muscle tension and spasm, herniated disc, sciatica, degenerative disc disease, spinal degenerative joint disease, spinal stenosis, spinal curvature due to tight muscles and facet syndrome.
Teeter FitSpine LX9 Inversion Table with Back Pain Relief DVD:
Boarding Base Frame is uniquely designed to make mounting and dismounting easier than ever, with an arched frame and non-ski raised boarding platform
Deluxe EZ-Reach Ankle Lock System with aerospace-grade steel and a micro-adjusting fit, the extra-long handle allows a customized, comfortable fit for the ankle supports without straining your back
EZ-Stretch Traction Handles add decompression at lesser angles of inversion with a simple push and release or easy rhythmic oscillation; push on the ends for a quick-release from full inversion
Stretch Max Handles provide an extra-long grip surface to assist new users and enhanced stretching options for more experienced inverters
EZ-Angle Tether offers a simple guide from beginning through advanced inversion with embroidered markings at pre-set angles of 20, 40, and 60 degrees
FlexTech Bed with 8-point floating suspension system moves with you for greater range of motion and allows for maximum body slide for better decompression 
Storage Caddy: Within easy reach while in use, this convenient holder can store the contents of your pocket, a phone, water bottle, or Acupressure Nodes 
Grip-and-Stretch Handholds in the frame and bed provide targeted stretching options
Ergo-Embrace Supports with specialty foam reduce pressure for a comfortable, ergonomic fit
Ankle Comfort Dial rotates to a high or low setting for a customized, secure fit
Lumbar Bridge and Acupressure Nodes focuses traction on the lower back and provides trigger-point release
FDA Registered 510(k) Medical Device; Third-party certified by UL to meet stringent quality and safety standards
Unique and patented security features including auto-locks and heat-treated steel for unmatched durability with scratch-resistant finished
Frustration-free assembly; Folds for Storage in just a few seconds to 20" x 28.8" x 66"
Free TeeterLink App, Full-colour Owner's Manual and Getting Started DVD included with 5 Bonus Healthy Back Routines designed by a physical trainer to stretch and strengthen 
Maximum User Weight & Height Capacity: 

300 lbs., 4'8" - 6'6"
Manufacturer's Warranty: 

5-year full warranty