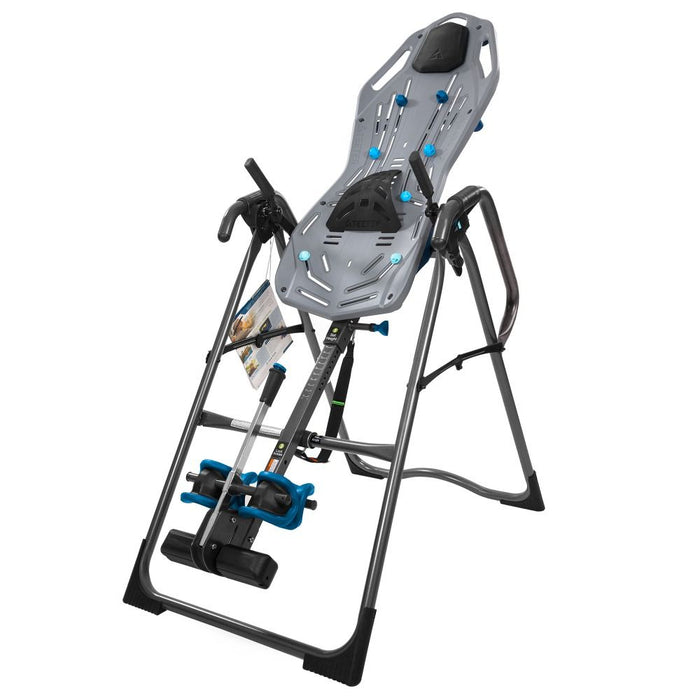 Teeter FitSpine X3 Inversion Table
Back In Stock Soon
Original price
$999.00
-
Original price
$999.00
Deluxe EZ-ReachTM Ankle System – The extra-long handle makes securing your ankles easy and strain-free, with a smooth, micro-adjusting ratchet closure to ensure the best fit. Built with aerospace-grade steel parts and a gravity-activated safety lock.
Stretch MaxTM Handles – Long, sturdy grips integrated with the frame provide enhanced user assistance and stretching options at any angle.
EZ-StretchTM Traction Handles – Three uses in one! A simple push and release adds decompression at lesser angles of inversion or easy rhythmic oscillation; push on the ends for a quick-release from full inversion.
EZ-AngleTM Tether – Embroidered markings take the guesswork out of inversion with pre-set rotational control to 20, 40, and 60 degrees.
FLEXTECHNOLOGY: THE KEY TO DECOMPRESSION
FlexTech Bed: The smooth, firm surface of the FitSpine Bed lengthens and stretches your spine more than other inversion tables for more stretch and more relief.
Better than Foam: Other inversion tables that are padded and heavy let your body sink into the foam which stops decompression.
Elevated, Flexible Support: To ensure comfort, the 8-PT Floating Suspension System lifts the bed off the steel frame to create a pliable surface that flexes and moves with you.
Precision Balancing & Full Lock-Out: The hinge design is engineered so you can effortlessly rotate in and out of inversion with controlled, smooth movement. Allows for a secure lockout in full inversion for advanced exercises and stretching.
CUSTOMISABLE COMFORT & SUPPORT
Acupressure Nodes & Lumbar Bridge – Place anywhere along the tracks in the bed for trigger-point release and support of the lower back for deeper decompression.
Head Pillow – The foam head support can be moved or removed for your comfort needs.
Grip-and-Stretch Handholds – Built into the FlexTech Bed and Frame for added stretching and decompression options.
Ergo-EmbraceTM Supports – Surround the ankles to distribute weight comfortably and evenly around the feet and heels.
INVERSION COACHING AT HOME
TeeterLink App: The ONLY inversion brand with a FREE app designed to help you get the most out of your Teeter! Schedule and track your sessions, watch how-to videos, chart your recovery and more.
Video On-Demand: DVD and online video support included. PLUS our Healthy Back and Body Series developed to improve mobility, flexibility and strength on your journey to relief.
Knowledgeable Inversion Experts: Get access to Inversion Experts online or over the phone. We're here to help you every step of the way.
SAFETY-CERTIFIED & BUILT TO LAST
Outperforms the Competition:  Teeter Inversion Tables are Safety Certified by UL* and outperform in comparison testing for endurance, rotation control and ease of assembly.
High Gauge Steel: The secret to Teeter's unmatched safety rating! The frame and important pivot and locking points are built with heavy-duty steel to ensure security and long-term durability.
Look for the Label! Meeting the UL Standard is one thing, but maintaining it is another. The only way to verify an inversion table continues to manufacture to important safety standards is to look for the actual UL label on the product itself.
5-Year Warranty: Backed by a 5-Year Full Warranty and four decades of quality and innovation, over 3 million people have put their trust in Teeter for natural back pain relief.